Ultimate Whole Home Smoke, Fire & CO Protection Sweepstakes

1st PRIZE
(Value: $284.60)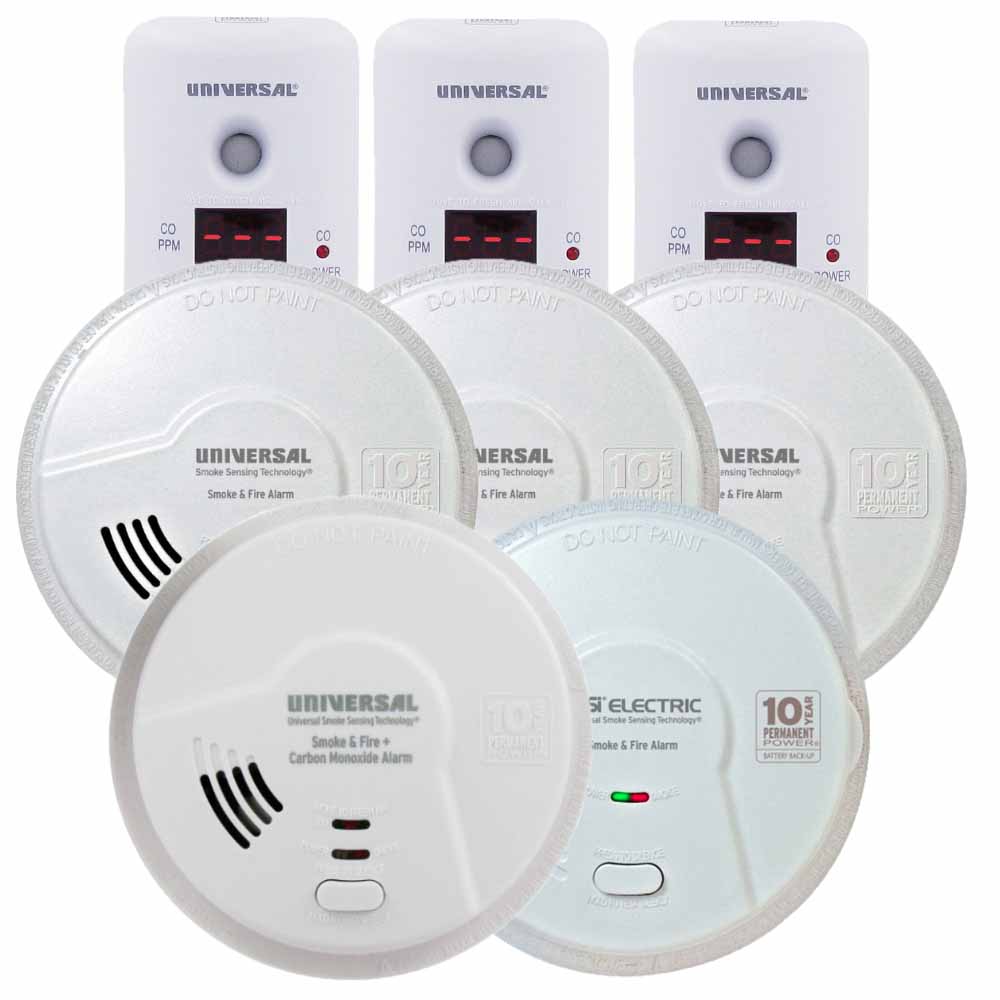 2nd PRIZE
(Value: $219.70)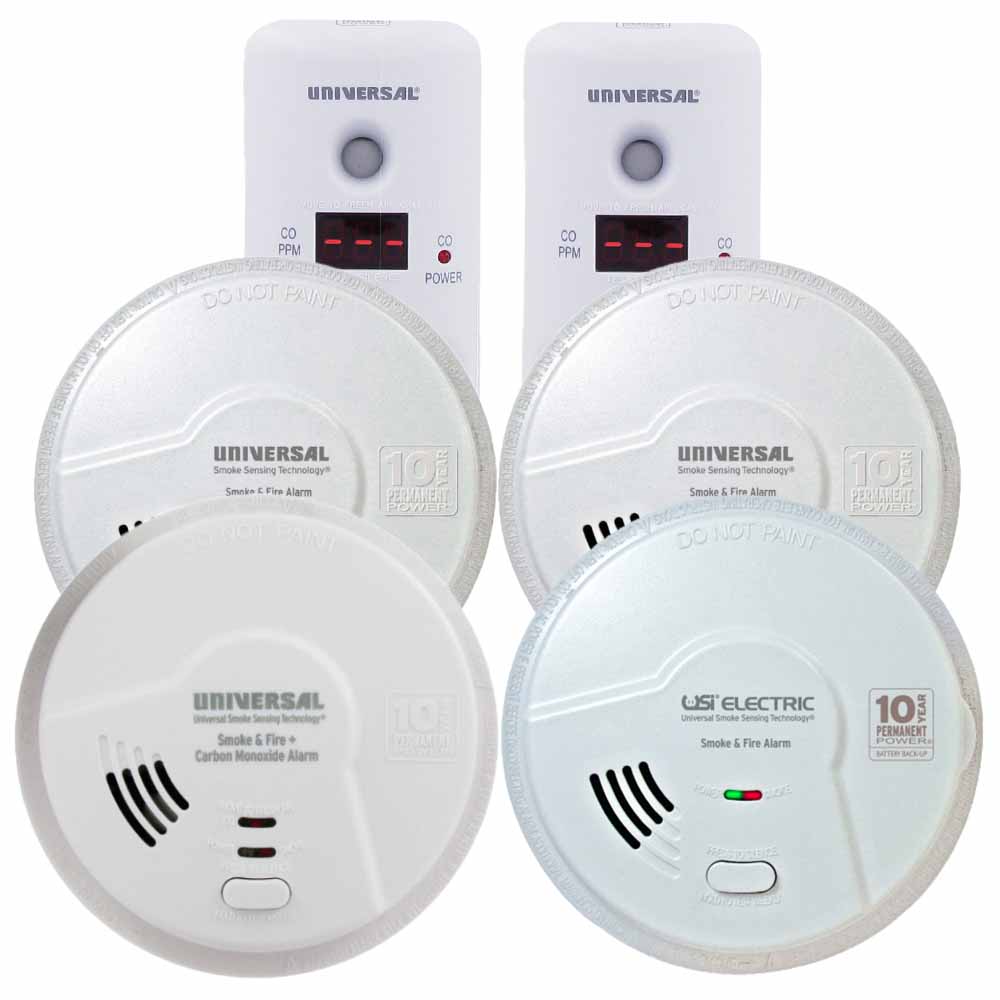 3rd PRIZE
(Value: $169.89)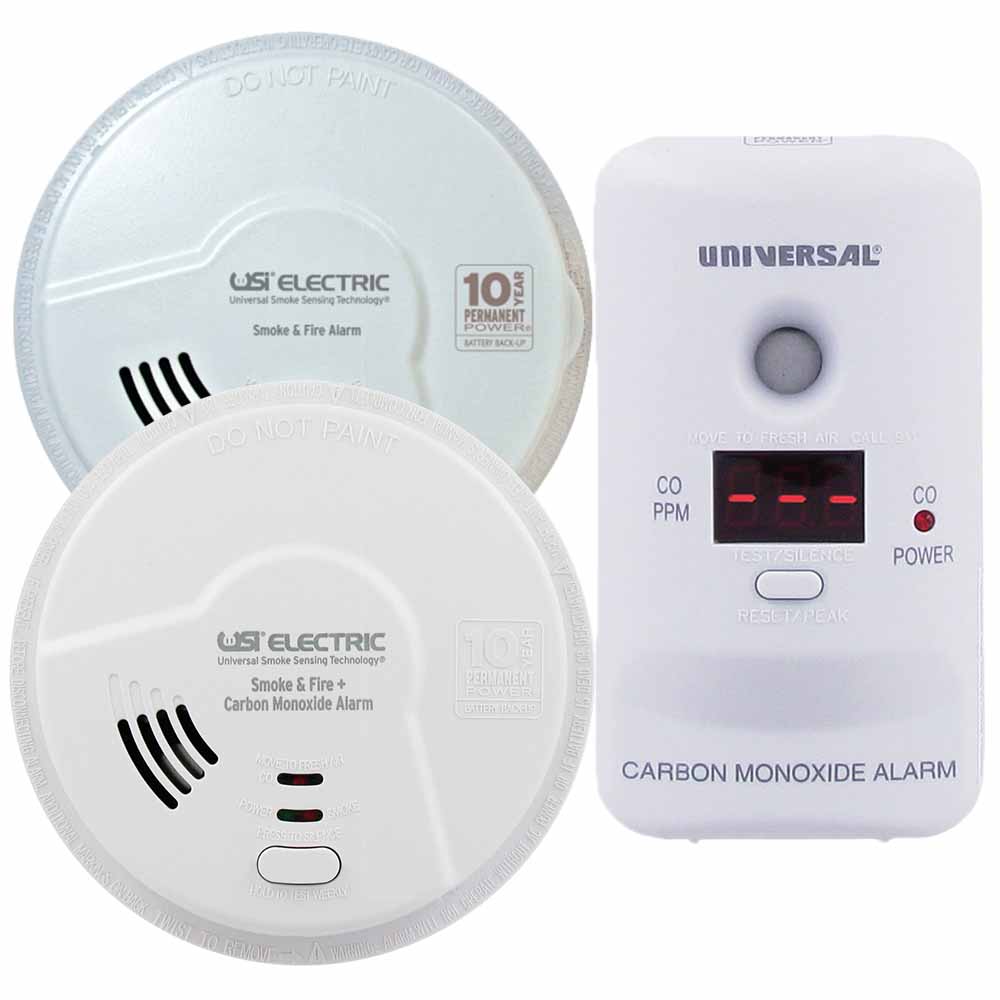 ---
Universal Security Store Contest Entry Form:
---
This contest has ended.
---
Thank you for visiting us, to show our appreciation we would like to offer a limited time coupon for you to use on your next online purchase with us. Click Here for details.
Shop Universal Security Store Categories:
Smoke & Fire Alarms
Universal Security Instrument smoke and fire alarms are your premier defense against slow and fast acting fires. Here you can find 10 Year battery alarms, photoelectric smoke alarms, patented universal smoke sensing alarms and more!
Carbon Monoxide Alarm
Protect your home from the silent killer with state of the art carbon monoxide detectors from Universal Security Instruments including: plug-in carbon monoxide detectors, hardwired co alarms and combination co, smoke and gas alarms.
Combination Alarms
USI combination detectors allow for multiple threat detection packed into one convenient alarm. Featuring combo carbon monoxide and natural gas alarms and combination smoke, co and gas detectors.
---
Contest Official Rules and Regulations:
eAccess Solutions, Inc., 407 N. Quentin Road, Palatine, IL 60067 ("Sponsor") will conduct its internet contest ("Contest") as described in the following rules, and by submitting an entry, each participant agrees as follows:

Eligibility:
This Contest is open to individual residents of the United States who are 18 years of age or older at the time the Contest commences. Employees, officers, directors, agents, representatives and independent contractors (and their immediate family members and member so of the same households whether related or not) of eAccess Solutions, Inc. are not eligible to participate. The Contest is subject to all federal, state and local laws and regulations. THIS CONTEST IS VOID IN ANY JURISDICTIONS WHERE PROHIBITED BY LAW. Participants agree to abide by the terms of these official rules and by the decisions of the Sponsor which are final and binding on all matters pertaining to the Contest. The Sponsor reserves the right to disqualify any participant that it determines, in its sole discretion, is ineligible to participate in the Contest. Use of an automated device to enter this contest is not permitted. Entries must include a valid e-mail address for the entrant. Entrants are prohibited from providing an e-mail address other than their own and will be disqualified for doing so. In the event of a dispute as to the identity or eligibility of a winner based on an e-mail address, the winning entry will be determined to be the "Authorized Account Holder" [defined as the natural person who is assigned to the e-mail address by an Internet Access provider, online service provider or other organization (e.g., business, educational institution, etc.)] of the e-mail address submitted at the time of the entry.

Dates of Contest:
Contest will begin on or about 12:01 a.m. (CST) on November 19th, 2019 and will end at midnight CST on March 19th, 2020. There is a limit of one entry per participant per day; additional entries will be discarded and are void. The winners of any contest may not participate in, and are disqualified, from future contests [in the calendar year.]

How to Enter:
In order to enter the Contest, you must log onto www.UniversalSecurityStore.com and enter your name, e-mail address, and full mailing address in the designated window. There is no cost to enter the Contest, and no purchase is required to enter. By providing your name, e-mail address and answering yes to receive future offers, you consent to becoming a member of eAccess Solutions' mailing list. You will receive offers and updates on the contests, products offered by eAccess, and similar or related products unless and until you opt out of these emails. Instructions for opting out of the e-mails are set forth in each e-mail. [If you do not have an e-mail address, you may enter the contest by calling the Sponsor's phone number on the website, and providing your name, mailing address and telephone number.] Winners who accept a prize consent to the publication of your name, along with your city and state of residence.

Random Selection of Winner:
At the conclusion of each monthly contest entry period, Sponsor will conduct a random drawing of all entrants for the month to determine the winner of the prize. One prize per month shall be awarded, as set forth in these rules. The winner of the contest will be shipped the prize free of all charges within the United States. Prizes are not transferable, redeemable for cash, or exchangeable for any other prize, except that Sponsor reserves the right to award a prize of equal or greater value if the advertised prize is unavailable. A winner must claim the prize within 48 hours of notification by Sponsor that they have won, or a new winner will be selected. Winners will be notified by telephone or e-mail. The names, city and state of the monthly winners will be published by the Sponsor on its website on or about the end of each monthly contest period, and shall also be available in writing upon written request to Sponsor. All entries become the property of eAccess Solutions, Inc. and will not be returned.

Publicity/Use of Personal Information:
YOUR ENTRY IN THE CONTEST CONSTITUTES YOUR CONSENT TO ADDITION OF YOUR NAME AND E-MAIL ADDRESS TO SPONSOR'S MAILING LIST. Entries may be used by eAccess Solutions, Inc. for this purpose without further consent of the participant or any consideration apart from participation in the Contest in accordance with these official rules. eAccess Solutions, Inc. may, but is under no obligation to, verify the information set forth in an entry prior to publication. ACCEPTANCE OF A PRIZE CONSTITUTES YOUR CONSENT TO PUBLICATION OF YOUR NAME AND CITY AND STATE OF RESIDENCE ON THE WEBSITE AND IN WRITTEN LISTS OF WINNERS.

Prizes:
1st Prize - USI Homeowner's Smoke, Fire & Carbon Monoxide Bundle (Value $284.60)
2nd Prize - USI Apartment/Condo Smoke, Fire & Carbon Monoxide Bundle (Value $219.70)
3rd Prize - USI First Floor Living Area, Smoke, Fire & Carbon Monoxide Bundle (Value $169.80)
Odds: Vary with the number of entrants. First chosen winner gets the first prize, second chosen winner gets the second prize and third chosen winner gets the third prize.
Taxes: Winner is solely responsible for reporting and paying any and all applicable taxes related to the prize and paying any expenses associated with any prize that are not specifically provided for in these rules.

Conduct of Contest/Limitation of Sponsor's Liability:
Sponsor is not responsible for any late, lost or misdirected entries or any computer, telephone or technical malfunction that may occur for any reason. In addition, if Sponsor cannot run the Contest as planned for any reason, including but not limited to, infection by computer virus, unauthorized intervention, fraud, tampering, technical failures, or any other causes which corrupt or affect the administration, security, fairness, integrity, or proper conduct of the Contest, the Sponsor reserves the right, in its sole discretion, to cancel, terminate, modify or suspend the Contest. Sponsor assumes no responsibility for any error, omission, interruption, deletion, defect, delay in operation or transmission, communications line failure, theft or destruction or unauthorized access to, or delay in operation or transmission, communications line failure, theft or destruction or unauthorized access to, or alternation of, entries. Sponsor is not responsible for problems or technical malfunction of any telephone network or lines, computer online systems, servers, or providers computer equipment, software, failure of any e-mail to be received by the Sponsor on account of technical problems or traffic congestion on the Internet or at any web site, or any combination thereof, including any injury or damage to participant's or any other person's computer related to or resulting from participation or downloading any materials in this Contest.

Release of Sponsor:
By participating in the Contest, each participant agrees to waives any and all claims of liability of any kind or nature against Sponsor, its employees and agents, on his or her own behalf, and by entering the Contest, releases Sponsor from and against all claims for any and all losses, damages, rights, claims or actions of any kind in connection with or resulting from participation in the Contest and/or acceptance, possession, or use of any prize(s) including, without limitation, personal injuries, death, property damages and any claims based on publicity rights, defamation, or invasion of privacy, and further, hereby agrees to indemnify and hold Sponsor harmless for any third party claims or actions in connection with or resulting from participation in the Contest and/or acceptance, possession, or use of any prize(s) including, without limitation, personal injuries, death, property damages and any claims based on publicity rights, defamation, or invasion of privacy.

Upon request, winners agree to sign a sworn statement of eligibility and/or a further authorization or release which confirms the rights granted to Sponsor herein. Failure to comply with a request for same or to claim any prize as provided in these rules may result in prize forfeiture and the selection of an alternate winner.

DISCLAIMER OF WARRANTIES WITH RESPECT TO PRIZES:
SPONSOR MAKES NO WARRANTY, EXPRESS OR IMPLIED, WITH RESPECT TO THE PRIZE, AND HEREBY DISCLAIMS ALL WARRANTIES, INCLUDING BUT NOT LIMITED TO THE WARRANTIES OF MERCHANTABILITY AND FITNESS FOR A PARTICULAR PURPOSE, WITH RESPECT TO THE PRIZE.

Jurisdiction:
Any dispute that may arise hereunder shall be brought solely in the appropriate state or federal court sitting in Chicago, IL, and participants consent to the personal jurisdiction and venue of such court.