USI Kitchen 2-in-1 Smoke & Fire Smart Alarm with 10 year Sealed Battery & Universal Smoke Sensing Technology (MDSK300S)
Availability: Sorry, this item has been DISCONTINUED.
You Save: $10.00 (33% Off)
Rate-of-Rise feature differentiates between cooking and a real fire.
Reduces the chance of nuisance alarms from cooking steam.
Tamper proof design provides a higher level of security to prevent battery removal.
Provides a decade in peace of mind.
Features the benefits of both photoelectric and ionization technology in one alarm
Maintenance Free Battery Power.
Never replace batteries for 10 years, saving up to $38.00 over the life of the alarm.
Eliminates annoying low battery chirps.
10 year sealed batteries provide continuous protection, even in the event of a power outage.
Smart Alarm Technology virtually eliminates nuisance alarms.
Combines the benefits of photoelectric & ionization technology in one alarm.
Quick activation battery pull tab makes this fast and easy to install.
Deactivation key switches alarm off and makes batteries safe for disposal (once alarm reaches the 10 year product end of service life).
Tamper resistant feature prevents deactivated alarm from being reinstalled.
Choose this alarm if you are looking for an alarm with superior nuisance alarm resistance.
10 year product end‐of‐service life warning sounds when it is time to replace alarm.
This alarm is suitable for installation in houses, apartments, dormitory and manufactured housing.
Meet New Laws & Legislation - This alarm exceeds industry standards, and is listed to UL Standard UL 217 and is California State Fire Marshal approved.
ECO Friendly, reduces environmental waste & eliminates disposal of up to twenty 9 volt batteries.
10 year limited warranty on both battery and alarm.
Product Features
The Universal Security Instruments MDSK300S 2-in-1 Smoke and Fire Smart Alarm provides 10 years of continuous protection against deadly threats in the home. New patented Universal Smoke Sensing Technology provides the benefits of both photoelectric and ionization alarms in one device to protect against fast flaming and slow smoldering fires. The patented Rate-of-Rise Feature will differentiate between cooking smoke/steam and real fire. Perfect for new or replacement installations, this maintenance-free alarm is suitable for houses, apartments and mobile homes in every room.
The sealed battery (included) will never have to be replaced throughout the life of the alarm, giving you a decade's worth in peace of mind even in the event of a power outage. Permanent Power also saves money from battery replacements (up to $38.00 over the 10-year life of the alarm), eliminates annoying low battery chirps and helps the environment by reducing environmental waste from disposed batteries.
The perfect replacement for existing USI Detectors, this USI Smoke and Fire Alarm features a large mounting base to cover imperfections in drywall and the option to replace retrofitting applications. The quick activation battery pull tab makes it easy to install while the deactivation key switches the alarm off and makes the alarm safe for disposal. Once the alarm is deactivated, the tamper resistant feature turns on to prevent deactivated alarms from being reinstalled.
This alarm conforms to UL 217 Standards. It has also been approved by the California State Fire Marshal and Federal Housing Authority (FHA) to exceed industry standards. For maximum protection, install an alarm inside every bedroom, outside every sleeping area and on all levels. The Universal Security Instruments MI3050SB 2-in-1 Smoke and Fire Smart Alarm comes with a 10-year limited warranty that covers both the battery and alarm. Universal Security Instruments is a U.S. based manufacturer of high quality, easy-to-install home safety products. Founded in 1969, Universal Security Instruments has over 40 years of heritage in providing home safety products for families. With state-of-the-art manufacturing facilities, Universal Security Instruments continues to launch revolutionary new products and technologies with the mission of always working to keep families protected.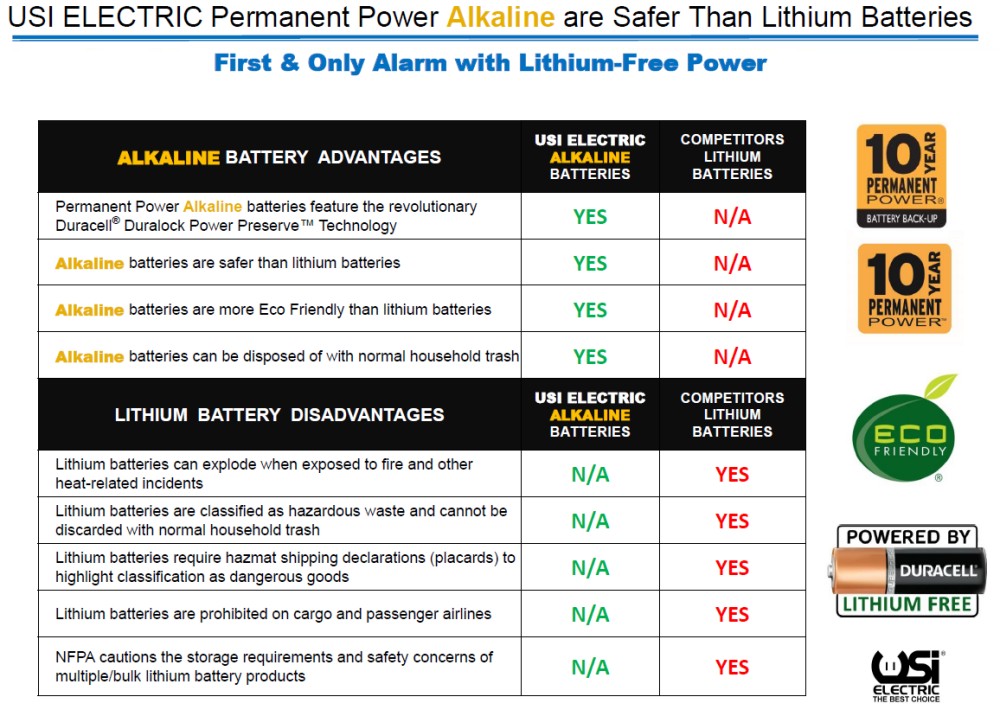 Product Details
Warranty: 10 Year Limited Warranty on both the battery and alarm
Alarm Battery: 10 Year Sealed Permanent Power Battery
Alarm Sensor Type: Universal Smoke Sensing Technology
Manufacturing Credits: ISO 9001 certified factory, UL listed & CSFM listed
Package Dimensions (W x H x D): 5.75 x 5.75 x 1.75 in.
Product Weight: 0.49 lbs.
Product Specs
Product Manuals
USI Kitchen 10 Year Sealed Battery Smoke & Fire Smart Alarm (MDSK300S) Videos
If you are interested in ordering a large quantity of items you may qualify for volume pricing discounts. Volume Discount Pricing is a great way for customers to save big on large, bulk orders of most items available in our store. Please send a bulk order request to our friendly sales staff so they may create a quote and provide personal service for your order! You will receive a response within 1-2 business days and our office hours are Monday through Friday, 8am-5pm CST.
We make it as easy as possible to ensure you get the lowest prices available:
Let us know what products & the quantities you are interested in.
Get a detailed quote from a dedicated sales rep.
Our warehouse ships directly to you.
You enjoy the savings & are now a preferred customer.
Send A Request Now
USI Kitchen 10 Year Sealed Battery Smoke & Fire Smart Alarm (MDSK300S) Reviews
Best alarms
I did a lot of investigation before I ordered new alarms. These had all of the options I wanted and they are so much cheaper than the other name brands. I installed them very easily myself and they have been great. Never had any false alarms. There are no annoying lights. I really like that they have different ones specifically for the hallway, bedrooms, and the kitchen. The previous brand I had in the kitchen went off every time I opened the oven. These don't since it senses the difference between steam and real smoke. These have USST technology which is much better than the other brands. I highly recommend this brand.
don lafferty
February 23, 2018
Easy to install
William Reupke
December 20, 2016
Good resistance to nuisance alarms
Received in good order. A similar unit recently installed works very well. Would recommend to any purchaser.
William Reupke
November 29, 2016
Good resistance to nuisance alarms
USI kitchen detector was easily and neatly installed. Performed very well in discriminating against steam from cooking. Eager to see performance with burnt toast.
Edward Olson
September 23, 2016
Simple install
Like the sealed long lasting battery.
Dewey Benedetti
August 16, 2016
Great purchase
Installed it on 8-3-16 and as of today no false alarms in the kitchen when preparing meals. I would recommend the 2 in 1, it's a great buy!
Gary Mitchell
May 23, 2016
Super easy to install
We didn't get anything going in the kitchen yet to test it, but it installs very easily.
joseph gangloff
March 20, 2016
cool -- slow rise feature / unique product advantage
low rise feature is excellent improvement over competing brands
michael manger
December 14, 2015
Everything is great, very happy with the product that its has both types of sensors.