Bathroom Ventilation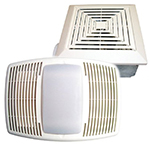 Find the perfect bathroom fan or replacement bathroom fan for your home, including bath fan models with several different motor power options and unique features.
---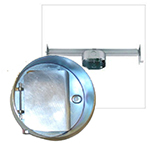 Find a variety of replacement parts for your USI Electric bath fan including bath fan duct adapters, replacement motor assemblies and bath fan brace / lighting fixtures.
---
A departure from their signature series of Smoke and Fire Alarms, USI's collection of Bath Fans and Bath Fan Accessories continues USI's standard of releasing exceptional hardware at a fraction of the competitor's price. Our selection of Bath Fans is as extensive as it is diverse and includes all of the essentials required to complement any bathroom. The USI Electric Bath Exhaust Fan with 100-Watt Lamp and 1100-Watt Heater is a stylish solution that effectively keeps the air flowing in your bathroom while simultaneously removing surrounding moisture.
The inclusion of a variety of Bathroom Accessories removes the hassle of pre-installation and gives you all of the necessary components needed to mount your USI Bath Fans in a secure and timely fashion. The USI Electric Square Grille Assembly Replacement Part for Bath Fans was specifically designed for USI Bathroom Exhaust Fans and contains all of the hardware needed to replace a broken or worn grille. This set includes an easy-to-follow guide that assures complete confidence with your purchase. Other additions such as the USI Electric Motor Assembly Replacement Part for 50 CFM Bathroom Fans combines high function with practical design to keep air moving while effectively pulling out moisture. When it comes to maintaining optimal efficiency, never settle for anything less than a USI branded Bathroom Ventilation product or accessory.