Universal Security Instruments Ionization 120-Volt AC/DC Wired-In Smoke and Fire Alarm with Battery Backup (USI-1204HA)
Availability: Sorry, this item has been DISCONTINUED.
You Save: $7.00 (28% Off)
The USI Electric USI-1204 Hardwired Ionization Smoke and Fire Alarm responds quickly to fast-flaming fires to protect your family against deadly threats in the home. Perfect for new or replacement installations, the 120-volt AC hardwired alarm is suitable for houses, apartments and mobile homes. This alarm features a convenient silencer button to temporarily quiet a non-hazardous alarm and Smart Interconnect to connect up to 18 units. The 9-volt battery (included) provides continuous protection in the event of a power outage. Ideal for replacement of existing smoke alarms, this detector features a large mounting plate for coverage of drywall impressions or old paint marks. The red LED light flashes when smoke is detected and the green LED light indicates that the power is functioning. Full dust and contaminant covers protect the device from spray applications, so you will not need to remove the alarm during any construction procedures. This smoke and fire alarm is UL Listed, California State Fire Marshal approved and Federal Housing Authority (FHA) approved to exceed industry standards. For maximum protection, install a smoke and fire alarm inside every bedroom, outside every sleeping area and on all levels of the dwelling.

The USI Electric USI-1204 Hardwired Ionization Smoke and Fire Alarm comes with a 5 year limited warranty. USI Electric is a subsidiary of Universal Security Instruments Inc., a U.S. based manufacturer of high quality, easy-to-install home safety products. Founded in 1969, Universal Security Instruments has over 40 years of heritage in providing home safety products for families. With state-of-the-art manufacturing facilities, Universal Security Instruments continues to launch revolutionary new products and technologies with the mission of always working to keep families protected.
Features
120 Volt AC Wired-In.
9 Volt Battery Backup.
Silencer Feature.
Mounting Hardware Included.
Tamper Resistant Locking Feature.
Battery Activation Pull Tab.
Heavy Duty Battery Included.
Loud 85dB alarm.
Listed to UL217 Standard.
Can be used to replace the USI-1208, USI-1213 and SS-790 alarms (uses same bracket & connector plug).
5 Year Limited Warranty on Alarm.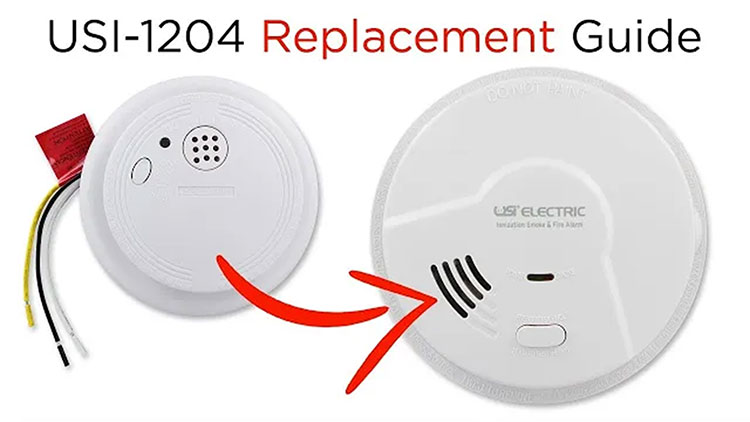 Replace Your USI-1204 Smoke & Fire Alarm With A Comparable Model
Replacing our popular USI-1204 smoke detector with a newer model can be down with 4 simple steps. We also provide 3 recommened replacement models based on your needs and budget.
---
WHY DOES MY SMOKE ALARM 'CHIRP' APPROXIMATELY ONCE EVERY MINUTE?
The smoke alarm chirps to indicate a "low battery" condition, meaning the battery needs to be replaced. Battery powered smoke alarms will chirp a minimum of 30 days before the battery completely loses power.

AC powered smoke alarms with battery backup will chirp indefinitely assuming AC power is present; if battery power is low, or battery is removed; until a fresh battery is installed. Approved replacement batteries are listed on the back of each smoke alarm and in the user's manual.

Certain model smoke alarms with a silence button (designed to silence the alarm during a nuisance alarm) may chirp to indicate the smoke alarm is in the silence mode. The chirp will stop after approximately 8 minutes and the smoke alarm will return to its normal operation.
WHAT DOES IT MEAN WHEN THE RED LIGHT ON THE ALARM FLASHES APPROXIMATELY ONCE EVERY MINUTE?
The flashing red light gives a visual indication that the smoke detector is functioning properly. It also indicates a working battery is connected to the smoke alarm.
WHAT DOES THE CONTINUOUS GREEN LIGHT ON MY SMOKE ALARM INDICATE?
When a green light is present on your smoke detector, it means that AC power is currently operating the alarm.
THE GREEN LIGHT ON MY SMOKE ALARM HAS GONE OUT, WHAT DOES THIS MEAN?
If the green light on your smoke detector is not on, it means the AC power has been interrupted to the alarm. Check the circuit breaker and AC wiring to make sure power is still reaching the smoke alarm.
HOW CAN I TELL WHICH SMOKE ALARM IN A MULTI-STATION SYSTEM INITIATED THE ALARM?
When interconnected alarms are alarming, the smoke alarm which initiated the alarm, either by test button or sensing smoke, will flash the red LED light approximately once per second. The red LED light on the other non-initiated interconnected smoke detectors will not be lit but will sound the alarm.
HOW MANY SMOKE ALARMS OR DEVICES CAN BE INTERCONNECT AT ONE TIME?
The NFPA 72 standard states the interconnect limit is 12 smoke alarms and up to 6 other alarms (heat alarms or carbon monoxide detectors) for a total of 18 total alarms. With 18 alarms interconnected, up to an additional 6 relay modules may be interconnected (for a maximum of 24 devices).

If battery backup alarms and non-battery backup alarms and accessories are mixed in an interconnect system, all devices without battery backup WILL NOT operate during an AC power failure.

CAUTION: USI alarms and accessories should only be interconnected with other USI alarms and accessories. Connecting devices from another manufacturer to USI devices may result in nuisance alarms, failure to alarm, or damage to one or all of the devices in the interconnect system. All interconnected USI alarms should be powered by the same fuse or circuit breaker. Smoke alarms shall not receive their power from a circuit that is protected by a ground fault circuit interrupter. Improper connection will result in damage to the alarm, failure to operate, or a shock hazard.
Product Details
Warranty: 5 Year Limited Warranty
Alarm Power Source: 120 volt hardwired with battery backup (Battery Included)
Alarm Sensor Type: Ionization
Manufacturing Credits: ISO 9001 certified factory, UL listed & CSFM listed
Product Dimensions (W x H x D): 5.31 x 5.31 x 2.00 in.
Product Weight: 0.55 lbs.
Product Specs
Product Manuals
USI Ionization 120-Volt Wired-In Smoke Alarm with Battery Backup (USI-1204HA) Video
If you are interested in ordering a large quantity of items you may qualify for volume pricing discounts. Volume Discount Pricing is a great way for customers to save big on large, bulk orders of most items available in our store. Please send a bulk order request to our friendly sales staff so they may create a quote and provide personal service for your order! You will receive a response within 1-2 business days and our office hours are Monday through Friday, 8am-5pm CST.
We make it as easy as possible to ensure you get the lowest prices available:
Let us know what products & the quantities you are interested in.
Get a detailed quote from a dedicated sales rep.
Our warehouse ships directly to you.
You enjoy the savings & are now a preferred customer.
Send A Request Now
USI Ionization 120-Volt Wired-In Smoke Alarm with Battery Backup (USI-1204HA) Reviews
Smoke alarms from USI electric
I had 6 smoke alarms in my house that were 14 years old and they all connect with each other. I had one that did not quit chirping once I put a new battery in it. I did online research and found out if the alarms are too old you would have to replace them. After more research, and worrying about finding new alarms that would be compatible with my existing alarm base, I found USI Electric. They had a new alarm that would hook up with my old bases perfectly. Changed all the alarms in about 15 minutes! Very satisfied!!!
Curtis N
October 18, 2021
Arrived quickly and was very easy to install.
Ashley L
October 16, 2021
Smoke detector
Reliable and effective!
Perfect
This only took five minutes per unit to install. I was so worried they would not fit.. I'm VERY PLEASED
Security Service Customer Service
Absolute Excellent Service. Thank-You
Anthony T
September 23, 2021
Great service and product
Ordered 7 smoke and fire alarms to replace old ones that were out of date. USI had a great price and the product in stock. Shipped quickly and arrived earlier than expected. Would recommend them to anyone and will use again.
Gary B
September 14, 2021
Reliability
We have been very satisfied with the quality and dependability of this product for over 10 years.
Bruce H
September 13, 2021
Replacement Alarm
Replaced alarms that were 14 years old. Process was very easy.
Smoke Detector
I ordered a replacement smoke/fire alarm and received it in two days. It was very easy to change out with the old one, thank you.
Great fire alarm
This fire alarms that I ordered arrived on time. They were easy to install. I'm very happy with my purchase!