USI Hardwired 10 Year Tamper Proof Permanent Power Sealed Battery Photoelectric Smoke & Fire Smart Alarm (MP116S)
Availability: Sorry, this item has been DISCONTINUED.
You Save: $6.00 (17% Off)
10 year sealed batteries provide continuous protection-even in the event of a power outage
Lithium-Free Permanent Power from Duracell Duralock Power Preserve Technology
Eco-Friendly-Reduces environmental waste & eliminates disposal of up to twenty 9 volt batteries
Maintenance Free Battery Power - No batteries to replace for the life of the alarm
Tamper proof design provides a higher level of security and prevents battery removal
Interconnectable with up to 24 compatible USI Electric alarms and devices
Saves money-Never replace batteries for 10 years, saving up to $38.00 over the life of the alarm
Eliminates annoying low battery chirps
Photoelectric Technology is typically more effective at detecting slow smoldering fires
Drift compensation feature allows alarm to auto adjust sensitivity if the photoelectric chamber becomes dusty or dirty over time-further reducing nuisance alarms
Smart Alarm Technology Provides:


Quick Find Alarm Origination Locator
Temperature & Humidity Compensation
Self Diagnostics to ensure alarm is functioning properly
Superior Nuisance Alarm Resistance
10 Year Product End-of-Service Life Warning

Deactivation key switches alarm off and makes alarm ready for disposal
Lock-out feature prevents deactivated alarm from being reinstalled
This alarm is suitable for installation in houses, apartments, dormitories and manufactured housing
Fast & easy to install. Perfect for new or replacement installations
For added security, tamper-resistant locking feature prevents unwanted alarm removal
Larger mounting base covers drywall imperfections and old paint marks
The single silence/test button temporarily quiets nonemergency alarms and tests alarm functionality
Meet New Laws & Legislation-This alarm exceeds industry standards, and ETL listed to UL Standard UL 217 and California State Fire Marshal approved
10 year limited warranty on both battery and alarm
Product Features
The Universal Security Instruments MP116S Photoelectric Smoke and Fire Smart Alarm provides 10 years of continuous protection against deadly threats in the home. The utilization of Photoelectric Technology allows for increased efficiency in detecting slow smoldering fires. Perfect for new or replacement installations, this maintenance-free alarm is suitable for houses, apartments and mobile homes. The sealed battery (included) will never have to be replaced throughout the life of the alarm, giving you a decade's worth in peace of mind even in the event of a power outage.

Permanent Power also saves money from battery replacements (up to $38.00 over the 10-year life of the alarm), eliminates annoying low battery chirps and helps the environment by reducing environmental waste from disposed batteries. This detector features smart alarm technology to assist in completely eliminating nuisance alarms, a single silence/test button to quiet a non-hazardous alarm and an end-of-service life warning that sounds when it's time to replace the battery (approximately 10-years from activation).

The perfect replacement for existing Universal Security Instruments Alarms, this unit features a large mounting base to cover imperfections in drywall and the option to replace retrofitting applications. The quick deactivation key switches the alarm off and makes the batteries safe for disposal. Once the alarm is deactivated, the tamper resistant feature turns on to prevent deactivated alarms from being reinstalled.

This alarm exceeds industry standards by meeting new laws and legislation. The Universal Security Instruments MP116S Photoelectric Smoke and Fire Smart Alarm is ETL listed to UL Standard UL 217 and is also California State Fire Marshal approved.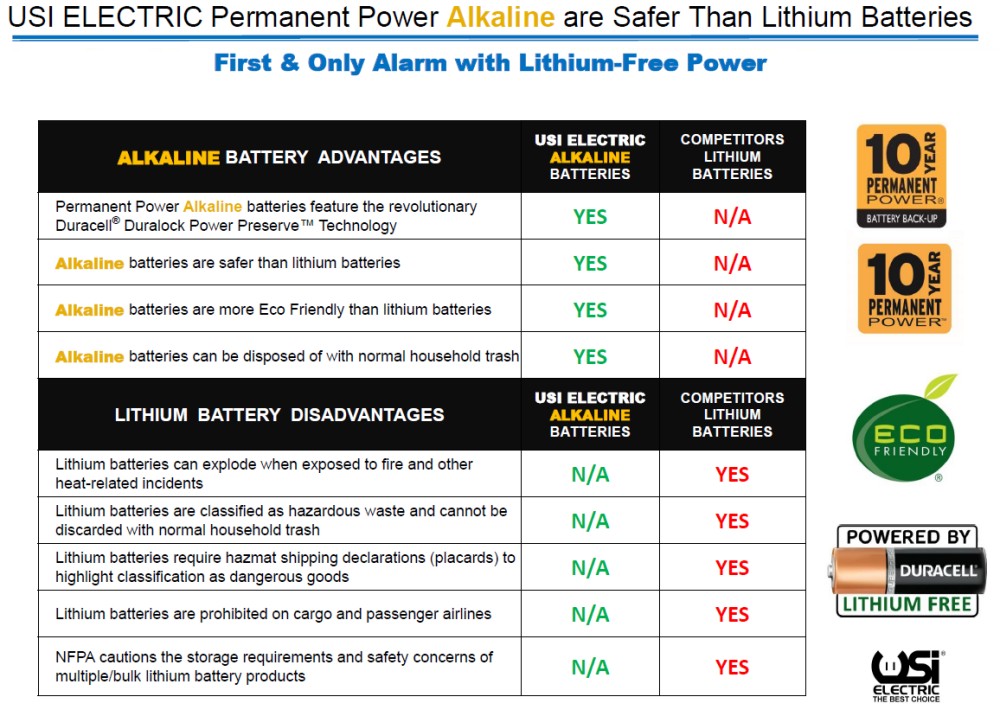 Product Details
Warranty: 10 Year Limited Warranty on both the battery and alarm
Alarm Power Source: 120V AC/DC Hardwired Alarm with 10 Year Permanent Power Sealed Battery Backup
Alarm Sensor Type: Photoelectric
Manufacturing Credits: UL listed & CSFM listed
Product Dimensions (W x H x D): 5.75 x 5.75 x 1.75 in.
Product Weight: 0.49 lbs.
Please Note: Current Mfg Date June 2017
Product Specs
Product Manuals
USI Hardwired 10 Year Photoelectric Smoke & Fire Smart Alarm (MP116S) Video
If you are interested in ordering a large quantity of items you may qualify for volume pricing discounts. Volume Discount Pricing is a great way for customers to save big on large, bulk orders of most items available in our store. Please send a bulk order request to our friendly sales staff so they may create a quote and provide personal service for your order! You will receive a response within 1-2 business days and our office hours are Monday through Friday, 8am-5pm CST.
We make it as easy as possible to ensure you get the lowest prices available:
Let us know what products & the quantities you are interested in.
Get a detailed quote from a dedicated sales rep.
Our warehouse ships directly to you.
You enjoy the savings & are now a preferred customer.
Send A Request Now
USI Hardwired 10 Year Photoelectric Smoke & Fire Smart Alarm (MP116S) Reviews
Ruth Gately
September 11, 2019
This is a gift not given yet.
Angela French
August 1, 2019
Replace Home Smoke Alarms
While these alarms are pricier than some of the others I elected to purchase them because the lithium battery would mean no changing of batteries, and its not easy to get to some of my detectors and I can get unbalanced fast on a ladder! The Customer Service email contact was EXTREMELY helpful with both tech information and the right alarm to get for the hardwire I already have. I shared with others in my neighborhood this information on our blog!
easy to install, no false alarms so far
This smoke alarm was easy to install, uses the same kind of connector as Kidde alarm it was replacing. No false alarms so far.
Marion Eldridge
June 3, 2019
So far, great! Very easy to install.
Rick Stephens
June 3, 2019
Arrived promptly and was easy to install. Should do me for 10 years but it was nice that you did what you said you would do.
Donald Boyle
May 13, 2019
Easy Install
Easy to install and just the combo function that I needed.
Michael Goldflam
January 20, 2019
Great product
The USI products are excellent. Easy to install, great service, excellent products
Margie nash
November 16, 2018
Fast Delivery
Received quickly,as described. Need to find an electrician to install. Thanks for good service
steve sullivan
November 6, 2018
Had to replace older model with new ones hope they last longer
Steve Bullum
September 10, 2018
Great fit & function
Exactly what i needed. Slim design, great technology, and ease of installation. However, the plastic battery protector pull tab on 1 out of the 5 tore off incorrectly. It's unretreivably stuck inside which caused it to not activate. In process of getting a replacement.