Protect Your Family from Deadly Carbon Monoxide This Winter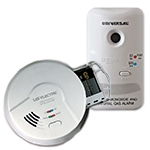 As temperatures continue to plummet in the fall and winter months, homeowners will become increasingly reliant on their heating units to over perform. The continual usage of heating products carries the inherent risk of producing large quantities of carbon monoxide. Representing the leading months for CO poisoning within the United States, the months of November through February have been acknowledged as a particularly dangerous time-frame for deaths attributed to carbon monoxide exposure. Universally decorated as a premier ally in securing the maximum in peace of mind, the Universal Security Instruments brand has released a collection of intuitively designed Carbon Monoxide Alarms and Combination Alarms that are all capable of safeguarding your surroundings in the months to follow.
Often referred to as the "silent killer", Carbon Monoxide (CO) is the leading cause of deaths attributed to poison in the United States. It is odorless, invisible and an extremely dangerous gas that can be emitted from everyday appliances to the car parked in your garage. The fall and winter months increase the susceptibility of homeowners looking to secure that much sought after peace of mind in preventing disaster. Universal Security Instruments recognizes the many dangers associated with CO and has outfitted its online store with a myriad of carbon monoxide alarms that excel as industry leaders in carbon monoxide detection.
10 Years of CO Protection with 10 Year Battery CO Alarms
Offering ten years of continuous protection against carbon monoxide, the Universal Security Instruments Carbon Monoxide Smart Alarm with 10 Year Sealed Battery is ideal for new or replacement installations. This maintenance-free alarm is suitable for houses, apartments and mobile homes. This solution to protecting your surroundings from carbon monoxide comes equipped with a sealed battery that will never have to be replaced during the alarm"s lifespan. Universal Security Instruments has also included combination alarms that are capable of detecting multiple threats at once.
Combination Smoke and Carbon Monoxide Alarms
The Universal Security Instruments Plug-In 2-in-1 Carbon Monoxide and Natural Gas Smart Alarm with Battery Backup includes dual-sensing technology that provides protection against carbon monoxide and natural gas. Utilizing microprocessor intelligence to eliminate nuisance alarms, this combination alarm also comes equipped with a single silence/test button to quiet non-hazardous alarms and an end-of-service life warning that increases overall versatility. The release of the USI 4-in-1 Hardwired Universal Smoke Sensing Smart Alarm Smoke, Fire, CO and Natural Gas Detection provides unprecedented protection. This Universal Security Instruments combination alarm is capable of detecting four deadly household threats that include: fast-flaming fires, smoldering smoke, carbon monoxide and natural gas. The inclusion of a self-diagnostics check, sensitivity adjustment and an end-of-service life warning increase versatility and reliability tenfold.
When it comes to outfitting your home with a dependable carbon monoxide alarm or combination alarm, the Universal Security Instruments brand has comprised an excellent assortment of alarms and detectors that best incorporate the themes of performance, reliability and accessibility. All of these Universal Security Instruments Carbon Monoxide Alarms and Combination Alarms are readily available for purchase at the Universal Security Instruments Store. Secure that much sought after peace of mind for the upcoming winter season with Universal Security Instruments and their incredibly intuitive series of detectors.
Universal Security Store News Archive