USI Releases M Series Smoke Alarms that Virtually Eliminate All Nuisance Alarms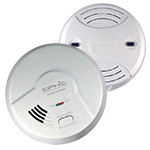 The Universal Security Store
is responsible for carrying a collection of
Smoke and Fire Alarms
renowned for their meticulous integration of industry defining technology. As such, they have made tremendous strides in distancing themselves as the superior choice to safeguard your home or place of business by developing the very first Single Sensor Alarm of its kind.
Capable of reacting 87% faster to Slow Smoldering Fires and quickly responding to Fast Flaming Fires
, USI is elevating the genre of Smoke and Fire Alarms by offering homeowners and business owners a sense of renewed and unrivaled peace of mind.
USI's distinguishable
Universal Smoke Sensing Alarms
utilize a Microprocessor that's capable of deciphering, recognizing, recording and ultimately alerting homeowners to a collection of threats. This can be attributed to the utilization of Microprocessor Intelligence that's capable of measuring the rate in which smoke enters the alarm's chamber. This ensures optimal results in differentiating between legitimate and nuisance alarms. Other key additions such as the ability to automatically adjust to a room's temperature and successfully eliminating the effects of air turbulence caused by fans, open doors and windows are all flawlessly realized and allow for maximum efficiency.
USI's M Series
of Smoke and Fire Alarms and Combination Alarms also feature a number of convenient add-ons that effectively bolster peace of mind in terms of power and operation. The M Series benefits from the use of a Regulated Power Supply that allows for continuous and undisturbed levels of performance in the event of a power outage. The ability to manually check your Alarm via a Self Diagnostic Test has also been included to ensure optimal levels of efficiency. Finally, an End of Service Warning has been added and will very loudly alert your surroundings of the need for a battery replacement. USI's M Series of Smoke and Fire Alarms and Combination Alarms have been designed to last 10 years and will deliver a decade's worth of protection.
The M Series was also constructed to ensure that each and every individual had an abundance of options to explore when it came to selecting their preferred Alarm of choice. For those solely interested in a Smoke and Fire Alarm that utilizes USI's new Microprocessor, you'll be delighted with the release of the
Universal Security Instruments Smart Battery-Operated Photoelectric Smoke and Fire Alarm
.
The USI Store has also made the availability of Combination Alarms that actively seek multiple threats. Capable of alerting homeowners to the dangers of Smoke, Carbon Monoxide and Natural Gas, the
USI Electric Hardwired 3-in-1 Smoke, Carbon Monoxide and Natural Gas Alarm
is an excellent candidate that offers full coverage. Regardless of your individual preferences, you can expect the very best from the M Series.
Specifically designed to differentiate between legitimate and nuisance alarms, Universal Systems created its Microprocessor to alert homeowners of genuine emergencies. Nuisance Alarms have been cited as the leading cause for disabling the operation of a Smoke and Fire Alarm. A frightening 50% of all Home Fire Deaths were attributed to the disabling of a Home's Smoke and Fire Alarm. When it comes to outfitting your home or place of business with an alarm that utilizes an advanced series of technologies to achieve maximum results, you can depend on USI's introduction of its M Series to deliver on all fronts. Purchase your USI branded Universal Smoke Sensing Smoke and Fire Alarms, Carbon Monoxide Alarms and Combination Alarms from the
Universal Security Store
today.
Universal Security Store News Archive