USI Universal Smoke Sensing Alarms Continue to Raise Industry Standards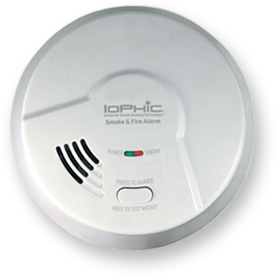 Successfully blending the latest technological advancements in a highly functional and potentially lifesaving format has always separated Universal Security Instruments from its competitors. Their series of innovative Universal Smoke Sensing Alarms proves this point emphatically by incorporating a microprocessor that's capable of recording incredibly accurate detection results while minimizing nuisance alarms.
Entirely exclusive to the USI brand, Universal Smoke Sensing Alarms provide optimal protection against a series of hazards. The utilization of Universal Smoke Sensing Technology has allowed USI's collection of Universal Smoke Sensing Alarms to be especially efficient in detecting both types of fires. These 2-in-1, 3-in-1 and 4-in-1 Protection Alarms are incredibly effective in recognizing Fast Flaming Fires and Slow Smoldering Fires. A boost in technology has allowed Universal Smoke Sensing Alarms to register and record Slow Smoldering Fires up to 87% faster than similarly constructed models. House fires carry the potential of doubling in as little as thirty seconds. Universal Smoke Sensing Technology can be instrumental in offering you and your family additional time in mapping your escape while simultaneously securing the ultimate in peace of mind.
Beyond dual protection from both Slow Smoldering Fires and Fast Flaming Fires, Universal Smoke Sensing Alarms are the premier defender in distinguishing between nuisance alarms and real life fires. This can be attributed to the inclusion of a USI patented microprocessor that allows for precision reading when registering potential threats. All of this information was backed by a recent study conducted by the University of Maryland's School of Fire Protection Engineering. When testing the capabilities of USI's Universal Smoke Sensing Series, it was discovered that Universal Smoke Sensing Alarms were considerably less prone to trigger nuisance alarms. The following table reveals the University's findings and showcases the capabilities of the Universal Smoke Sensing Series when compared with its competitors.
USI Smart Sensing Alarms further distinguish themselves from similarly constructed models by carrying a myriad of installation options. Due to their incredibly high resistance to nuisance alarms, they can make an ideal addition to nearly any room. The National Fire Protection Association recommends that a Fire Alarm be installed in every bedroom, rooms adjoining a sleeping area and on every level within a home. You can find USI's signature series of Smart Sensing Alarms as well as a host of other home safety products at the UniversalSecurityStore.com. Always working to protect your family, you can always expect USI to deliver the absolute best in terms of performance, reliability and overall value.
Universal Security Store News Archive